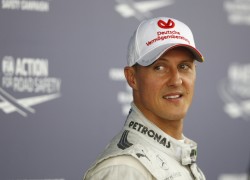 After initial reports that his condition was not serious, news has emerged that Michael Schumacher's condition has deteriorated and he is now in a critical state at a French hospital.
According to SkySports F1, a statement released by the University Hospital of Grenoble confirmed that he was in a coma.
"Mr Schumacher was admitted to the University Hospital of Grenoble at 12:40pm, following a skiing accident which occurred in Meribel in the late morning. He suffered a severe head injury with coma on arrival, which required immediate neurosurgical intervention. He remains in a critical situation."
Investigations are still ongoing as to the cause of the incident. Medical personnel who attended to Schumacher at the ski resort were by his side in minutes and was airlifted to the Moutiers hospital after the accident. He was then transferred to the University Hospital of Grenoble where they specialise in head trauma.
As soon as the news of his condition broke, there was an outpouring of well wishes from the F1 community. "Come on Michael, give us one of those race stints at pure qualifying pace to win through, like you used to. You can do it," tweeted former racer and Sky Sports F1 commentator, Martin Brundle.
Our thoughts and prayers are with Micheal and his family. We hope and pray that he pulls through this. He is a fighter and we would like him to come out on top after this.