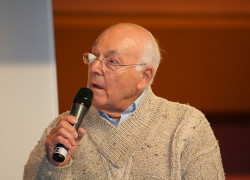 Everyone's favourite F1 commentator and the voice of Formula One for more than 30 years, Murray Walker, revealed last night that he has been diagnosed with a form of lymphatic system cancer.
The cancer was diagnosed during routine blood testing while he was undergoing treatment for a fall last month which broke his pelvis.
But being Murray Walker, the 89 year old remains up beat and told BBC Sport that he was hopeful as the cancer has been caught very early.
"They've caught it incredibly early. It's treatable, the doctors say my condition is mild and I'm very hopeful," Walker said.
Walker, whose voice and energetic commentary has become synonymous with Formula One  over the years is apparently more concerned about having to cancel his plans to attend the Silverstone F1 Grand Prix at the end of June. F1 journalist, Maurice Hamilton who broke the news on Twitter last night, also jokingly tweeted, "Despite having to face chemo, Murray is more concerned about having to miss Silverstone and Goodwood. Typical!"
Murray Walker became involved in GP racing in 1949 and worked as a Formula One commentator and journalist from 1978 until his retirement following the US Grand Prix in 2001. Numerous websites featuring Murray's 'Walkerisms' can be found across the Internet and he has become a much loved and adored Formula One stalwart.
Our thoughts are with Murray as he faces chemotherapy for the next few weeks and we wish him well on his road to recovery.
What are your favourite memories of Murray Walker and his F1 commentary? Leave them in the comments section below.