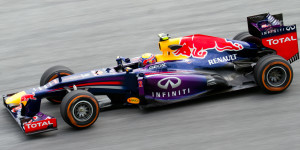 F1 Fans are once again up in arms after speculation has surfaced that the Red Bull team are using traction control which is banned in Formula One.
It seems that an Italian publication, Autosprint started the rumours and speculation around Red Bull cheating, stating that the team may be using traction control to gain a significant advantage over rival teams.
This follows the publication finding a picture of Mark Webber, shortly after his collision with Giedo van der Garde. They state that one can see evidence of a traction control system on the track, after Webber accelerated from the hairpin, toward Turn 11.
"You immediately notice the traces on the track," Autosprint reported. "Those are not continuous (usually darker at the beginning and then gradually faded) of a 'screech.'"
They go on to say that, ""It is the typical behaviour of a road car that goes 'jerky' with the traction control switched on."
This is all entirely speculative and there has been no protest from any teams regarding the matter. We are pretty sure that if there was any truth in the rumour, it would not take rival teams very long to protest and request an investigation if they had even the slightest sniff of Red Bull cheating. Surely the FIA would have noticed something as obvious as traction control by now as cars also undergo thorough scrutineering.
According to F1 Madness' technical expert, Ritesh K. Bhana (@humanshield_1), "all teams use the same electronic ECU which is supplied by the FIA as per Article 8.2.1 of the Formula One rules and regulation, so it is unlikely that it's traction control".
Unfortunately (or fortunately), as is often the case with Formula One and all the politics that go with it, it would seem that this was nothing more than sensationalist reporting. Of course the "news" has sent fans into an absolute flurry with Twitter being abuzz with further speculation around the validity of the claims.
We will keep you updated if any news develops.