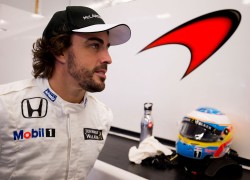 Fernando Alonso told workers at the McLaren factory in Woking today that he is committed to the teams Formula 1 project and that he wants to win a world title with McLaren.
Alonso's affirmation comes after he was linked to the empty Mercedes seat after Nico Rosberg announced his retirement from Formula 1.
The Spaniard was linked with the Mercedes seat even though he was under contract at McLaren till 2018. The rumors and reports did not stop. Mercedes Director Toto Wolff said after that he would not interfere with the drivers in other teams.
"I believe in this project," said Alonso speaking to the staff at the McLaren factory.
"I'm committed and I want to be world champion with McLaren-Honda.
"That is my only goal"
"I believe in this project." Fernando address the team at MTC today on his commitment to achieving his ultimate goal at #McLarenHonda. pic.twitter.com/PDwyJZo2si

— McLaren (@McLarenF1) December 13, 2016

This puts Alonso firmly out of reach of Mercedes and his place at McLaren solid till his contract expires.
The name on everyone's lips for the Mercedes seat is now Williams' Valtteri Bottas and quite possibly Carlos Sainz Jr. A Bottas switch to Mercedes is quite a delicate and complicated deal to conclude. Mercedes supply engines to Williams, who could also do with the extra cash that a Bottas contract buy-out from Mercedes will bring. Doing this will leave Williams without a senior just as we head into a period with new cars and new technical regulations.
The other hand Sainz's contract may be cheaper to buy out from Toro Rosso. We all know that Sainz has punched above his weight this season and has definitely made his case to stay in F1.
Until we hear who's taking up the Mercedes seat in 2017, everything is just speculation. But for now, we know Alonso is not going anywhere.