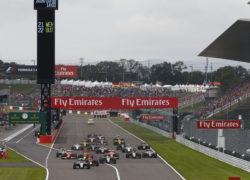 The FIA released the provisional entry list for the 2017 Formula One season.
As expected following the announcement by Nico Rosberg that he will retire from F1, Mercedes have one seat available and the rush to fill the empty Mercedes seat has everyone waiting in anticipation to find out who it will be.
There are a few interesting names that have been floated with Fernando Alonso's name dominating the chatter in forums and reports. The sad truth of that is that Alonso is contracted to McLaren till 2017. Carlos Sainz, Valtteri Bottas and Pascal Wehrlein have been tipped to be in the running for the seat in the second Mercedes.
| | | |
| --- | --- | --- |
| Car No. | Driver's Name | Team |
| 8 | Romain Grosjean | Haas F1 |
| 20 | Kevin Magnussen | Haas F1 |
| | | |
| 27 | Nico Hulkenberg | Renault Sport Formula One Team |
| 30 | Jolyon Palmer | Renault Sport Formula One Team |
| | | |
| 14 | Fernando Alonso | McLaren Honda Formula 1 Team |
| 2 | Stoffel Vandoor | McLaren Honda Formula 1 Team |
| | | |
| TBC | TBC | Manor Racing |
| TBC | TBC | Manor Racing |
| | | |
| 44 | Lewis Hamilton | Mercedes AMG Petronas Formula One |
| TBC | TBC | Mercedes AMG Petronas Formula One |
| | | |
| 3 | Daniel Ricciardo | Red Bull Racing |
| 33 | Max Verstappen | Red Bull Racing |
| | | |
| 11 | Sergio Perez | Sahara Force India |
| 31 | Esteban Ocon | Sahara Force India |
| | | |
| 9 | Marcus Ericsson | Sauber F1 |
| TBC | TBC | Sauber F1 |
| | | |
| 5 | Sebastian Vettel | Scuderia Ferrari |
| 7 | Kimi Raikkonen | Scuderia Ferrari |
| | | |
| 55 | Carlos Sainz Jr. | Scuderia Toro Rosso |
| 26 | Daniil Kvyat | Scuderia Toro Rosso |
| | | |
| 77 | Valtteri Bottas | Williams Martini Racing |
| 18 | Lance Stroll | Williams Martini Racing |