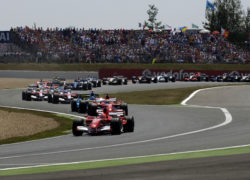 After a decade of not featuring on the F1 calendar, the French Grand Prix that used to be hosted at Magny-Cours will return to the F1 calendar from 2018 at the Paul Ricard Circuit from a 5-year deal.
The President of the Conseil Régionale de Provence Côté d'Azur, Christian Estrosi made the announcement at the Automobile Club de France in the Place de la Concorde in Paris.
"Today I can announce clearly, firmly, and finally, the return of the French Grand Prix for the summer in 2018 in the Provence-Alpes-Cote d'Azur, at the circuit Paul Ricard," he said.
"We are proud of this great return after 10 years. In 2018 it will be 10 years since the Grand Prix left the country, and this is a huge victory for the men who worked for its success."
"When we know how motorsport is so popular in our country – and we are ambassadors and bearers of innovation, creation, research and development, it was for our country a real scar to lose the grand prix.
"Since then there have been several efforts – and I want to pay tribute to former Prime Minister Francois Fillon and FFSA president Nicolas Deschaux and many others who worked hard for the return of the race."
Etrosi also dedicated the return of the French Grand Prix to Jules Bianchi.