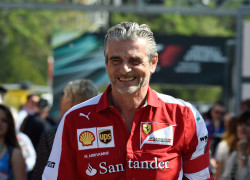 Ferrari team boss Maurizio Arrivabene is of the opinion that their title challenge is being fought against the strongest team that the sport has seen in the last ten years.
Arrivabene says the strength of the Mercedes team only increases the challenge facing Ferrari this year.
Arrivabene said in a press conference following the Friday practice sessions ahead of the Chinese Grand Prix this weekend, "Concerning the expectation of the season, I can say the Mercedes team of this year is the strongest one that I saw in the last ten years because it's quite a lot of years that I'm around and, I mean, to be able to win against them, you have to work and be better than them. So, we are doing all our best to have good results.
"What's happened in Australia and Bahrain, we explained it very, very well and I think I don't need to give further explanation because what we said, it was absolutely true, like it or not."
Mercedes boss Toto Wolff was quick to return the compliment and applauded Arrivabene and the Ferrari team for pushing Mercedes very hard. "I'd like to give the flowers back – they are pushing us very hard and you have seen today that it is raw performance and we have seen the performance in the last couple of races. Ferrari haven't been able to pull it together because they made a big step from '15 to '16, similar to the step of '14 to '15 and in order to have the package rolled properly deliver and be reliable, that isn't an easy task but in terms of sheer performance, they are really pushing us. And that is good; this is how the competition should be."