Italian tyre manufacturer and Formula 1 supplier Pirelli have announced that it will not run new rear tyres at the British grand prix.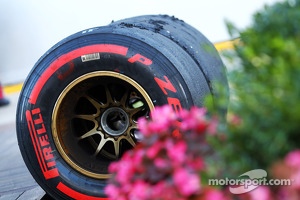 A change isn't going to come after all. Pirelli had been looking for a solution for delamination suffered by drivers this season and opted for a tyre test, this one above board, during the free practice sessions in Canada. The weather conditions in Montreal limited the running that could be done on the experimental tyre and the decision was taken to postpone any modification to the current tyres.
"We are not going to race with the new tyre as we did not get much of a chance to test it here [in Canada]," said Pirelli motorsport director Paul Hembery. "We have some internal specification changes – process changes – that we think will go the full way to curing the delamination issue that we have seen. That is good from many points of view, as it means teams will be working with the same tyre they started the year with.But it is probably not good for some teams that are struggling with the front tyre."
To combat the delamination Pirelli will introduce a revised bonding procedure to the current tyres in the hopes that the tread remains affixed.