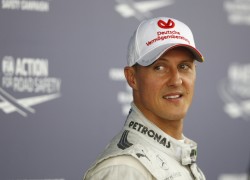 Michael Schumacher will return home to continue his recovery and rehabilitation process at home following his skiing accident last December.
Schumacher spent 6 months in a medically induced coma at a hospital in Grenoble after sustaining severe brain injuries. He was later transferred to Lausanne's University Hospital in June to continue his recovery.
A statement released by Schumacher's manager read as follows:
"Henceforth, Michael's rehabilitation will take place at his home.
Considering the severe injuries he suffered, progress has been made in the past weeks and months.
There is still, however, a long and difficult road ahead.
We would like extend our gratitude to the entire team at CHUV Lausanne for their thorough and competent work.
We ask that the privacy of Michael's family continue to be respected, and that speculations about his state of health are avoided."
There were no further details regarding the 7-time world champions condition