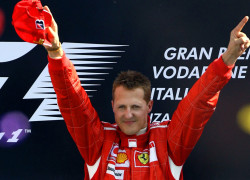 Michael Schumacher is showing "moments of consciousness and awakening," according to his manager Sabine Kehm.
Schumacher has been in a coma since his tragic skiing accident at the end of December 2013.
According to a statement release by Kehm, the seven time world champion is making progress.
Doctors began waking Schumacher up at the end of January after a month in a medically induced coma. Two months later and according to the statement released by Kehm, "Michael is making progress on his way".
"He shows moments of consciousness and awakening. We are on his side during his long and difficult fight, together with the team of the hospital in Grenoble, and we keep remaining confident."
She again reiterated the Schumacher family's request for privacy.
She also rebuked recent tabloid reports that Schumacher was set to be moved from the hospital in Grenoble, or that Schumacher's wife, Corinna, was in the process of building a a medical suite for him at their home so that she could move him there. This after tabloids like the Daily Mail had even reported that this was set to happen as doctors could no longer do anything for the F1 legend.