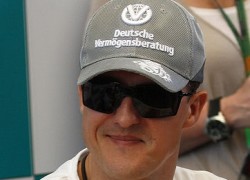 Reports have been making the rounds that former F1 driver Michael Schumacher has been taken to hospital with a head injury.
The accident allegedly happened while the 44-year-old seven time world champion was skiing in the French resort of Meribel in the popular Three Valleys ski area.
"I do not know the severity of the injury," the director of the ski station told French radio station RMC. The police are currently conducting their investigation into the origins of the fall."
He added: "We do not know yet if it happened on a piste or off-piste."
Michael Schumacher retired from Formula 1 for a second time at the conclusion on the 2012 season.