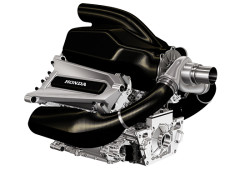 Honda plan to spend some of their nine allocated development tokens on boosting maximum horsepower by looking into different concepts around combustion in the next few months.
The engine manufacturer – who only supply McLaren – only entered the sport this season and therefore have less engine tokens compared to their rivals Mercedes, Ferrari and Renault. Planning how to spend these tokens will be key to improvement throughout the season but Honda motorsport boss Yasuhisa Arai believes they have established the key areas where there are weaknesses and tokens can be well spent on improving.
"We don't have the complete plan yet as to how to use the tokens, which areas and when," said Arai.
"We have already confirmed which areas are the most effective, and I know we are making a plan to apply race-by-race how many tokens we spend.
"One area where we are weak is horsepower – we need more horsepower.
"So one area to use the tokens is combustion, and the MGU-K and MGU-H because energy is a very important part.
"Combustion and energy recovery systems are very important."
When asked what Honda needed to change to achieve their goal, Arai said: "Maybe we need to change the combustion concept, or the turbocharger, or the camshaft, those kind of parts.
"We should try to change the combustion concept because maybe the other power-unit suppliers are always thinking about better combustion characteristics.
"Every day, on the research and development side they are thinking about it, working on or testing a new combustion concept to get more horsepower to immediately apply that.
"Maybe that's the area to use the tokens."
The Barcelona in-season test following a very difficult Spanish Grand Prix was quite successful for McLaren and Honda. Jenson Button had described his car has being 'scary to drive' during the race but he managed to complete 100 laps without any problems during the test.
Arai also confirmed that Button and his team mate Fernando Alonso should find that they'll experience "more controlled driveability" from the Honda engine for the upcoming races in Monaco and Canada.