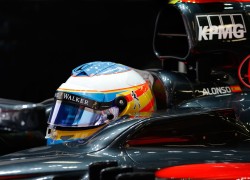 Fernando Alonso is eyeing to score his first points for the season at this weekend's Monaco Grand Prix and is optimistic that McLaren can challenge for points.
McLaren has had a dismal start to their season and is yet to score a point since reuniting with Honda at the start of 2015. At the Spanish Grand Prix, Alonso progressed through to Q2 during qualifying but retired from the race when a visor tear-off strip caused a brake failure. His team mate Jenson Button also had a very difficult run, labeling the car as being "scary to drive" and finished in 16th position.
Alonso however is hopeful that McLaren-Honda can compete for a top 10 postition around the streets of Monte Carlo.
"Monaco is one of those circuits that's in its own league," Alonso said. "Although it's almost impossible to overtake there, it still produces one of the most impressive and exciting shows on the Formula 1 calendar.
"As a circuit and as a place, it's completely unique, and this is what makes it so special. There are three areas you have to focus on for this Grand Prix – qualifying, concentration, and strategy.
"Saturday is where you can increase your chances of getting a good result from the weekend, so this will be our first objective, and I'm hopeful we can continue to strengthen our qualifying performance and improve our starting position.
"On Sunday, the most important thing is concentration – the streets are so narrow and twisty that there is no margin for error – so if you can do this and also maximise your strategy, you have the best chance of moving up the order by the end of the race.
"My home race in Barcelona was obviously a frustrating weekend for the whole team; we were unlucky with how my race ended and we firmly believed we could've achieved a positive result there.
"Our fighting spirit is still strong though, and we're determined to take that to Monaco and see how much progress we can make there. I'm hopeful our car will perform better there than in Spain, and we'll be pushing again to get into the points."
Fernando Alonso Photo Credit: McLaren F1