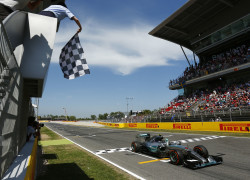 It's taken a bit of time but Nico Rosberg has struck back and with quite a dominant victory at that.
The circuit de Barcelona Catalunya has always been a good hunting ground for the German/Monegasque but given the way his 2015 season has been going the weekend wouldn't have started
 with Rosberg as the favourite. In the Mercedes garage it's been all Hamilton for the first four races and on the championship log too. But if there's one thing in sport you can always count on its that there are always ups and downs.
From the Saturday qualifying
session onwards Nico Rosberg was most definitely on the up.Perhaps it started even earlier than this as Hamilton appeared off-colour for most of the practice running. The reigning champion was never one hundred percent comfortable with the balance of his car and that was all Rosberg needed to pounce.
The under pressure German snapped up pole by a comfortable two-and-a-half tenths and never looked back. A clean launch off the line and good management skills was all Rosberg needed in Sunday's 66 lap race. At no stage in the race was he ever under pressure and in fact as the chequered flag beckoned he was far enough ahead that he could ease off and coast to victory.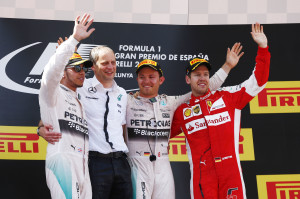 Lewis Hamilton had to work a bit harder for his eventual second place as he opted for a three-stop strategy. The early phase was highlighted by a fight with Sebastian Vettel during which he easily matched the pace of the Ferrari. However, Hamilton thanks to modern aero regs couldn't get close enough to overtake on the circuit and opted for the pit-stop undercut which affected the position change.
Many would have been quite keen to see what the Ferrari upgrades would deliver in relation to Mercedes. The conclusion was far less spectacular than our lofty daydreams and the Spanish grand prix was a far from stellar weekend for Ferrari.
It could have gone worse for Vettel and Raikkonen; they could, for example, have been McLaren drivers. While Jenson Button was hauling his McHonda around in 18th place and complaining about incessant understeer Fernando Alonso was forced into retirement with brake failure who, at the time, was running in 13th place.
Let's remind ourselves that this is the mighty McLaren. A team once reserved only for the greats such as John Surtees, Alain Prost and Ayrton Senna. A team that has amassed 182 racewins now reduced to retirements and also-rans. In the innermost part of your racing heart you know that it's just wrong and desperately sad. It's difficult to quantify just how far McLaren are from their once inspiring prominence but Jenson Button and Fernando Alonsoaccount of the "scary to drive" car is illuminating and quite disturbing.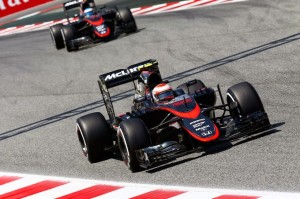 Sebastian Vettel secured his customary third place on the grid but over on the other side of the garage a bit of a freak accident meant Raikkonen's tyres were overcooked and the Finn was forced to set his Q3 time on a used set which netted him seventh on the starting grid. Things didn't go spectacularly better in the race either. Vettel had a bit of a fight for second with Hamilton but was ultimately relegated to third. Raikkonen too turned a decent pace with yet another impressive stint on the harder, and slower, compound tyre. Yet, Ferrari conceded the biggest victory margin to Mercedes of the season so far.
The first four races of the 2015 season haven't painted a pretty picture for Nico Rosberg. He has been so comprehensively whipped by Lewis Hamilton that his psychological well-being came into question. A mini-meltdown after the Chinese grand prix and a lacklustre Bahrain grand prix rendered a rather gloomy outlook for the once championship contender.
And while we were rightly discouraged by Rosberg's lack of grit deep-down we were hoping for resurgence from the number 6 Mercedes. Now, one race doth not make a consistent Hamilton-beater but it has to start somewhere and he is the most likely contender. Given that thenext round is the Monte Carlo grand prix with which Rosberg has quite the love affair this Spanish Gpwin could turn out to be an important turning point for Nico.