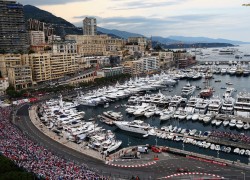 Round 6 of the Formula 1 World Championship brings us to one of the most anticipated races of the season. The Monaco Grand Prix.
The 3.340 km street circuit with 19 corners, winds its way around the principality of Monaco through famous landmarks such as the Fairmont hairpin, the tunnel and the swimming pool section. The circuit is tough on the drivers both mentally and physically. Concentration levels need to be kept at maximum levels throughout the race as there is no room for error around the Circuit de Monaco. The awaiting barriers will punish any driver that has the slightest lapse in concentration or even puts a wheel wrong.
With the narrow streets, overtaking is a very rare commodity at the circuit. Although not impossible, there is a reduced amount of overtaking that goes on. The two most common overtaking spots are Sainte Devote(Turn 1) and the Nouvelle Chicane coming out of the tunnel. The Fairmont hairpin has also become quite a popular overtaking spot in the past few years.
After winning the Spanish Grand Prix in rather dominating fashion with a 1-2 finish, Mercedes are once again the firm favorites for this weekend. However, teams see the Monaco Grand Prix as a bit of an equalizer as aerodynamics do not play as big of a role as it would on any other circuit. Monaco is mostly about mechanical rear grip and teams that were struggling feel that they may have half a chance around Monaco.
McLaren's Fernando Alonso thinks that points are possible in Sunday's race and he feels confident that he can get McLaren's first points since switching to Honda power units.
After finishing more than half a minute down the road from Mercedes at the previous race in Spain, Ferrari are hoping that their rear grip issues have been sorted out. Williams on the other hand are making steady progress with every race and seem to be closing the gap to Ferrari.
Lotus' Pastor Maldonado feels that they will be able to challenge Red Bull this weekend and says that they are not too far off the pace.
After getting some good mileage in testing, Red Bull are hoping to put their reliability issues behind them and will want to challenge for a higher points finish.
Things happen a bit different during the Monaco Grand Prix. Free Practice 1 and 2 will take place on Thursday with Friday being a rest day. The action resumes as normal on Saturday for FP3 and Qualifying with the race on Sunday. Below are the broadcast times for the Formula 1 Grand Prix de Monaco 2015(Times are GMT+2).
Free Practice 1: Thursday 10:00
Free Practice 2: Thursday 14:00
Free Practice 3: Saturday 11:00
Qualifying: Saturday 14:00
Race: Sunday 14:00