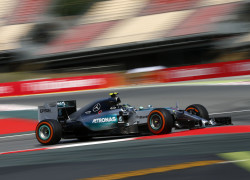 Nico Rosberg picked up right where he left off for Mercedes on Tuesday in testing after victory at the Spanish Grand Prix on Sunday. 
Rosberg's fastest lap of 1:24.374 came in the morning session with an unmarked Pirelli compound was 0.307s quicker than his pole setting time for the Spanish Grand Prix. He also clocked up 146 laps around the Circuit de Catalunya-Barcelona, the most of any driver for the day.
Marcus Ericsson at the wheel of the Sauber was second quickest on the day. His time of 1:26.624 pushed Ferrari Academy driver Raffaele Marciello down to 3rd fastest after he held second spot for most of the day for Ferrari. Both drivers completed 98 and 125 laps for their respective teams. Ericsson will make way for Marciello on Wednesday at Sauber while Esteban Gutierrez will get his first drive in the Ferrari SF15-T.
Despite reliability problems throughout the season so far, the Red Bull of Daniil Kvyat made it around the track 101 times with the 4th fastest time of the day. Pastor Maldonado in the Lotus had a trouble free day to finish his day 5th fastest for Lotus.
Nick Yelloly made his debut for Force India, albeit a day early. He was called up when Pascal Wehrlein fell ill and was forced to pull out of the test. Yelloly enjoyed his day out in the car finishing 6th fastest with a time of 1:27.396 and clocking up 109 laps for the day.
"It felt really good to finally get my chance in a Formula One car. I've been working towards this day for a long time and I need to say a big 'thank you' to everyone at Sahara Force India for giving me this opportunity," said Yelloly.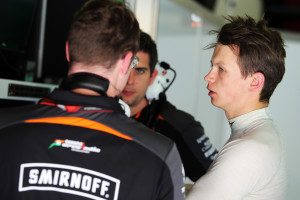 "The first few laps felt a bit unusual, but I soon got comfortable in the car.
"I'm feeling really positive about the day and I hope it's been useful for the team."
Wehrlien is scheduled to drive for Mercedes on Wednesday. They are hopeful that he'll be fit to drive for the team.
Another F1 debutant was GP2 driver Pierre Gasly. He was at the wheel of the Toro Rosso and racked up a marathon 131 laps. He ended the day 7th fastest with a 1:27.639. Felipe Massa in the Williams was 8th fastest for the day and completed just 54 laps.
McLaren's Oliver Turney was 9th fastest on the day with a 1:28.542 and clocked up 68 laps. McLaren were trailing a whole host of new parts at the track today and were trying to make the most of their time by testing as much as they could.
As the test goes on, Formula 1 Tyre supplier Pirelli are, with the help of Mercedes, Ferrari, Toro Rosso and Red Bull, testing out new compounds.
| | | | | | |
| --- | --- | --- | --- | --- | --- |
| Pos | Driver | Car | Time | Gap | Laps |
| 1 | Nico Rosberg | Mercedes | 1:24.374 | – | 146 |
| 2 | Marcus Ericsson | Sauber/Ferrari | 1:26.624 | 2.250s | 98 |
| 3 | Raffaele Marciello | Ferrari | 1:26.648 | 2.274s | 125 |
| 4 | Daniil Kvyat | Red Bull/Renault | 1:26.904 | 2.530s | 101 |
| 5 | Pastor Maldonado | Lotus/Mercedes | 1:27.338 | 2.964s | 60 |
| 6 | Nick Yelloly | Force India/Mercedes | 1:27.396 | 3.022s | 109 |
| 7 | Pierre Gasly | Toro Rosso/Renault | 1:27.639 | 3.265s | 131 |
| 8 | Felipe Massa | Williams/Mercedes | 1:27.911 | 3.537s | 54 |
| 9 | Oliver Turvey | McLaren/Honda | 1:28.542 | 4.168s | 68 |
Testing line up for Wednesday 13 may 2015 available here
Photo credits: Mercedes AMG Petronas Formula One Team, Sahara Force India Formula One Team