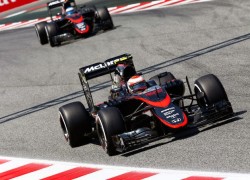 While managing to finish the race in 16th after starting in 14th, McLaren's Jenson Button said that it was very scary to drive his car.
"My car was pretty scary to drive today: as soon as I touched the throttle, the car just snapped away from me," he remarked after the race.
The twitchy rear end on the McLaren made it almost impossible for him to get traction out of the corners.
" It was unpredictable: in low-speed corners, the car was just slow, because I got wheel spin immediately; in the high-speed stuff, it was just scary, because the rear end would snap away immediately under power.
"I was talking to my engineers for most of the race to try to find out what the root of the problem was, and we switched on quite a lot of handling balance changes to try to cure it. It got a little bit better towards the end of the afternoon, but it was a pretty tough afternoon.
"Now, we'll thoroughly look at the data and see what the matter was – it's something we've got to look into."
After today's performance, Button does not think that McLaren will score any points this season.
"After today I don't think I expect points at all this year. Hopefully today was an off day, it didn't feel right. The weekend has been reasonably good for us and I've been happy with the way the car has been. It was like flicking a switch in the race"