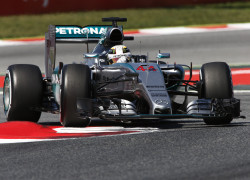 Mercedes' Lewis Hamilton says that his Spanish Grand Prix weekend was a difficult weekend and that it was about damage limitation.
Hamilton qualified in 2nd position on Saturday after struggling for most of the weekend with the setup on his car. At the start he was slow to get off the line and had quite a bit of wheel spin. By the first corner he had lost 2nd place to Ferrari's Sebastian Vettel. He struck further problems at his first pit stop where the rear left was slow to go on. He lost time to Vettel once again and had to make up the lost time.
The team decided to change him from a 2-stop strategy to a 3-stop strategy which eventually got him ahead of Vettel and secured his 2nd place finish. After his third stop he emerged from the pit 22s behind Rosberg who was comfortably managing the pace. Pete Bonnington, Hamilton's race engineers said that he should take it easy till the end and that there was no chance of catching and passing Rosberg with 15 laps to go. Hamilton seen that as a challenge and pushed on. At the end of it all, Hamilton finished the race 17s behind his team mate.
Hamilton had this to say after the race: "I got off to a poor start with too much wheel spin and had to fight hard just to keep third. From there it was always going to be tough as it's difficult to run right behind another car here and even tougher to pass.
"I managed to stay close enough to Seb before the first stops but unfortunately we lost a bit of time there. In the end, we went for a three stop strategy to try something different.
"That call was made quite early on as it was clear it wouldn't have worked to stay out for that long and, again, passing on track was almost impossible.
"Luckily we had the pace to make it work. Nico was then 22 seconds ahead with 15 laps to go which was a big gap. I pushed really hard to close up until about 6 laps from the end but I was only gaining about a second per lap which wasn't enough.
So, damage limitation on a difficult weekend for me. But I'm grateful that I could score some good points for the team."
Photo credit: Mercedes AMG Petronas Formula 1 Team