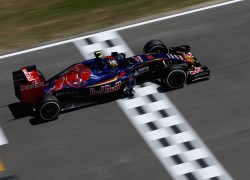 The stewards have decided not to penalize Toro Roso driver Carlos Sainz and Red Bull driver Daniil Kvyat for their incident on the final lap of the race.
The two were fighting for 9th place and on the final lap of the Spanish Grand Prix the pair made contact into Turn 1. Kvyat, on the inside line after making three moves, locked up under braking and went straight on as Sainz attempted a pass around the outside. The contact between the two forced Sainz off the track into the run off area. Sainz then continued over the sleeping policemen and rejoined the track ahead of Kvyat before Turn2.
A statement by the FIA read: "Stewards accept the statement of the driver of Car 26(Kvyat), the concurrence of the driver of Car 55(Sainz) and confirmation from the video evidence, that the first two moves were not defensive and that only the third move was defensive," read the statement from the stewards.
"The stewards agree with the assertions of the drivers and team representatives that this was a racing incident.
"The Stewards consider that Car 55(Sainz) was in front at the time it entered the corner and accept the evidence of the driver that he slowed in re-joining the track at Turn 2 and gave room at Turn 3 for Car 26(Kvyat), in order to avoid gaining a lasting advantage. The driver of Car 26(Kvyat) also admitted that he slowed at Turn 2 and gave room for Car 55(Sainz) to re-join the track.
Photo Credit: Scuderia Toro Rosso Formula 1