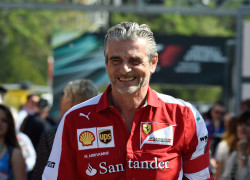 Ferrari was one of the teams that brought a whole raft of updates for the SF15-T to the Spanish Grand Prix and were expecting a big improvement. They did, however, see an improvement, but it seems like Team Principal Maurizio Arrivabene was expecting more.
Sebastian Vettel, who qualified in 3rd and finished the race in 3rd, had the bulk of the new parts on the car. Kimi Raikkonen on the other hand reverted back to some of the older parts on Saturday before qualifying. Raikkonen qualified in 7th but worked his way up in the race to finish 5th.
Speaking after the race Arrivabene said that more needs to be done to close the gap to Mercedes.
"The comparison of the two aerodynamic configurations in the race clearly shows that Sebastian's car was going very well versus Kimi's," commented Arrivabene
"But we need to improve. The gap to Mercedes is there and we need to analyze our data to understand the reasons.
"We're not blind to the fact that we were losing about half a second in T3 only, which puts a premium on traction, and we must find out whether this depends on the nature of the track or on our faults.
Arrivabene felt that they chose the right strategy for the race and feels that a three stop strategy would've left them worse off.
"Strategy-wise, we took an aggressive approach by having Seb stop only twice for tyres. If we had gone for a three-stopper, things wouldn't have changed or would have been even worse.
Although he is encouraged about the step forward from Ferrari, he feels that they should be closer to Mercedes and says that they need to work harder.
"The numbers tell us that the new solutions are good, the reality shows that they are not good enough. We did make a step forward, but it was supposed to be a jump. I am not blaming anyone in particular, I am taking my own responsibilities. We need to work harder".
Photo Credit: Scuderia Ferrari Formula 1