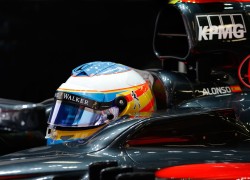 It appears that a tear-off visor strip is to blame for Fernando Alonso's brake failure at the F1 Spanish Grand Prix. The brake failure saw Alonso very nearly running over his pit crew and then retiring from the race.
The McLaren team identified the issue during Alonso's second stint and called him in to the pits for a tyre change and so that they could investigate. On arriving in the pits, Alonso's brakes failed to stop the car. The front jack man had to leap out of the way in order to avoid injury. Alonso was forced to retire and McLaren mechanics later found a tear-off visor strip covering the right-rear brake duct – most likely leading to the brakes overheating and ultimately failing.
"It was scary for the guys but luckily we didn't hurt anyone and the team were very fast with their reaction so next time hopefully everything works fine, " Alonso said. "We had no brakes for the whole in-lap but then on the pit stop, even less, so it was deteriorating but everything was fine."
Alonso went on to say that the brake failure issue was completely separate to the problems he faced in qualifying for the Spanish Grand Prix and said that now McLaren will now need to make "double steps" in order to keep up.
"Today was a new problem. Yesterday it was one disc – it was not getting temperature – and today I had no brakes – so it's different, definitely. It was the rear disc – it stopped working – so I only had front brakes, which meant I had to retire the car. I couldn't brake in the corners and I couldn't even brake in the pit. It was a disappointment but there's nothing we can do now just prepare and do an investigation in what happened to the brakes and in Monaco come back stronger."
Photo Credit: McLaren F1