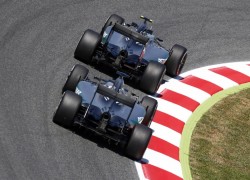 Mercedes driver and current F1 World Championship leader Lewis Hamilton was not happy with the radio message from his team telling him to back off during the final stint of the Spanish Grand Prix.
A slow start from second on the grid and a slow first pit stop compromised Hamilton's race and meant that he had to switch to a three-stop strategy in order to retake second place from Ferrari's Sebastian Vettel.
Following his last pit stop, Hamilton was comfortably ahead of Vettel and had fresh tyres on which he could attack the 18-second gap to race leader team mate Rosberg.
Hamilton asked his pit wall about the possibility of catching Rosberg and his engineer, Peter Bonnington, responded that it was "impossible", telling him to back off and consolidate the second place. Hamilton was not happy with this at all.
"It's not nice for a driver to hear that," Hamilton said. "I'm here to race, not to finish second so actually I ignored that. Then I was really putting the car on the edge and when I realised that I had seven laps to go and there was still 13 seconds and I was only 0.7s per lap faster, I had to take the smart approach and bring the car home. Still, it's not something you want to hear so I will definitely be making sure that is not said again."
Hamilton did concede though, that by pushing, Rosberg would also be forced to push which could put both cars at risk. He's now looking forward to Monaco though and says he'll be fighting back. "I know that I can rectify things at the next race and that's what I plan to do. I've not won that race for a long, long time and this is going to be my third chance with this great team and with a great car. Hopefully third time lucky."
Photo Credit: Mercedes AMG F1