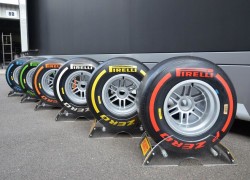 Official Formula 1 tyre supplier Pirelli says that it remains focused on safety following the FIA Strategy Groups's announcement about proposed 2016 'free choice' tyre rules.
The FIA revealed on Friday that the Strategy Group – which is made up of six F1 teams, FIA President Jean Todt and Bernie Ecclestone – were proposing a series of changes aimed at spicing up the F1 show. The changes include the return of refuelling in 2017, higher noise levels and aerodynamic rule changes, amongst others.
Also included is a proposed change that will allow F1 teams free choice to select any two of the four dry weather compound Pirelli tyres – the Hard, Medium, Soft and Super Soft – ahead of each race on the F1 calendar.
Under the current regulations, Pirelli is responsible for selecting two tyre compounds per race, based on relevant data and analysis by the tyre supplier.
Pirelli motorsport director Paul Hembery was very critical of the proposal saying that it came as a surprise and was concerned about teams being reckless in their decision-making.
"If you start opening up choices this is what will happen: firstly, the top teams will centralise around the same choices because they use the same ideas and data we would be using," Hembery said following the announcement.
"Then there would be some people that would want to risk a little more, and then there would be some people who would want to be a little reckless.
"That means they would be taking a product into a situation that would create a safety problem, and if there is a safety problem then we cannot accept that risk, so it is impossible.
"That is even before we get into the logistical problems and extreme cost it would involve to do such a thing.
"It's more important to look at 'why would you want to do something like that' and 'what are you trying to solve' rather than suggesting a change without analysing what you are trying to achieve."
Hembery did however state that Pirelli will remain focused on safety and developing a safe solution. "As ever, Pirelli will work with the teams and the FIA to find solutions to problems that are safe, and deliver the required results," he said.