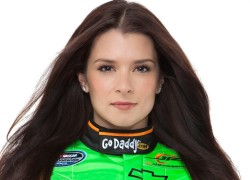 Gene Haas is not ruling out the possibility of seeing Danica Patrick behind the wheel of an F1 car.
The American motorsport mogul is set to launch his Formula 1 team in ten months and has not ruled out Danica Patrick as a potential driver choice.
"Danica Patrick is highly marketable, and if anything we're very lucky GoDaddy is giving us enough time to find a sponsor that she'll fit with because she can sell anything," Haas told AUTOSPORT. "She has as much attention at the race track as any of the drivers, so she's a very valuable person."
Danica Patrick, currently a driver in the NASCAR Sprint Cup Series, spent much of her early racing career in Europe with the main aim of reaching Formula 1. Patrick opted for American racing series instead and her star rose dramatically as she became the first female driver to lead a lap of the Indianapolis 500 in 2005 while driving the number 7 car in the IRL series (Indy Racing League). Three years later, in 2008, she made further history by becoming the first woman to win a major open-wheel race when she took victory at the Twin Ring Motegi in Japan.
Patrick's time in NASCAR has been lacklustre by her loftystandards with only a handful of top ten finishes and a Daytona pole to show for it.
Haas went on to say that a decision on a driver line-up will not be made until mid-summer.