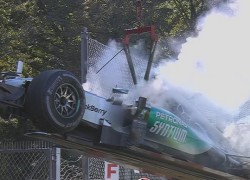 It has been revealed that the Mercedes F1 team turned the power up on Nico Rosberg's engine shortly before it failed ending his hopes of finishing the Italian Grand Prix.
F1 championship title contender Rosberg lost a lot of ground off the start of the race after having to dodge the stalled Ferrari of Kimi Raikkonen and dropped back to sixth place from fourth on the grid.
He had managed to make up a lot of the lost ground during the race and, in the late stages, was starting to catch Ferrari's Sebastian Vettel for the second step on the podium. In a bid to help Rosberg catch Vettel, Mercedes turned the power of his engine up. The 6 race old power unit expired in a plume of smoke just three laps before the end of the race.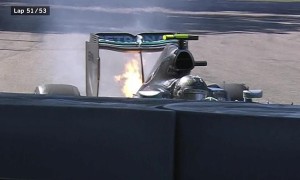 Toto Wolff, Mercedes Motorsport Chief admitted that Rosberg had been given the go ahead to push the Spa-spec engine harder to chase Vettel. The engine had been put back into Rosberg's Mercedes after his new spec power unit encountered problems during the final practice session on Saturday ahead of qualifying for the Italian GP.
"We gave it a little push at the end to try to catch Sebastian and this is when it decided to call it a day," he said.
"The engine was on its sixth race, so it was very high on miles," Wolff added.
"And we didn't get any warnings."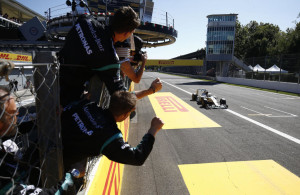 Hamilton now leads Rosberg by 53 points following the German's retirement from the race. Hamilton's victory – following being cleared of a tyre pressure infringement on both cars – has put him well clear of his main title rival.
"It's a fact that it's a massive step in the wrong direction," said Rosberg.
"It's the biggest loss I've had in one day throughout the whole season, so that's very bad, and I now need to catch up a few points.
"I keep going. Giving up doesn't exist for me, so I'll just keep fighting, and I've got to try to win the next couple of races somehow.
"The whole weekend just went completely wrong, and unlucky I think.
"So many repercussions of this engine issue… it wasn't an engine issue actually, it was a chassis issue that made me have to change.
"To have it explode two laps from the end was unbelievable. It's even more disappointing.
"I was going to have a good go at Vettel because finally I had the brakes cool enough to attack, and I could ramp up the electric power, and I was going to really go for it."