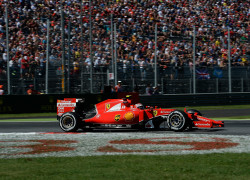 Ferrari's Kimi Raikkonen put his poor start to the Italian Grand Prix on Sunday down to a clutch problem.
Raikkonen had a clean get away at the start at the formation lap and his practice start when leaving the pits was near perfect. But when the five lights went out, Raikkonen was bogged down and when he eventually got his car going again almost all the cars had passed him.
Replays of the start showed that Raikkonen dropped the first clutch to get off the line, but his car did not move. It was almost as if he had not selected first gear. He eventually got going but not before he was passed by nearly all the cars on the grid. When he got up to speed he was in 20th place.
Raikkonen fought through the field and drove a really good race to finish the in 5th. It was a really good recovery from the Finn but he still remained disappointed about the start.
"I don't know exactly what happened at the start," said Raikkonen after the race.
"As far as I know I did everything correctly, but the car went into the anti-stall and did not move at all.
"I still don't have the right explanation about what happened, but it's a really bad thing that cost us a lot today.
"If you start from second place and after a few seconds you're in last position it's not easy to see the positive side of the race: we wasted a big opportunity to fight at the front."
Team Principal Maurizio Arrivabene suggested that Raikkonen had messed up at the start but then said that it was wrong of him to make an an accusation before he gets the data.
Ferrari are investigating the issue with Raikkonen's clutch.
"This time I see the glass half full," commented Arrivabene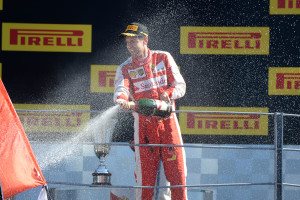 "Sebastian's race to second place was unbelievable. His contribution to the team so far has been outstanding.
"As for Kimi, he had a great qualifying yesterday, then maybe he messed up a bit at the start of the race, but making an accusation before I have the data is wrong". But afterwards he was able to pass a lot of cars on the track with a fantastic race.
Despite the mishap with Raikkonen Arrivabene was happy with the teams performance at his first race in charge of the Scuderia on home turf and confirmed that they spent a few engine development tokens ahead of the race.
"Ideally, we would have hoped for two good starts, but we're happy anyway with this weekend.
"We came here investing a few tokens on our Power Unit and we're satisfied with our gain, also in terms of reliability.
Sebastian Vettel was overwhelmed on the podium as a Ferrari driver in Monza. Although finishing second, he dubbed it as "the best second place he's ever had in Formula 1."
"It's an incredible day, it's the best second place I ever had in Formula One," said Vettel
"Thanks to all the tifosi for giving me those emotions today on the podium: it's fantastic to see so many fans, feel the support we get as a team. It just makes our lives so much more worth living when you see all the fans coming underneath the podium.
"In terms of emotions it's more than a victory. It's nearly a perfect day: I'm saying nearly because I don't know what happened to Kimi at the start."
"It's a shame because otherwise I believe we could have both cars on the podium today. The speed was there, unfortunately not enough to win, but we've tried everything.