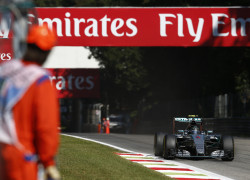 Mercedes' Nico Rosberg that his retirement from the race at the Italian Grand Prix in Monza was a massive step backward for the German.
Rosberg was forced to take an engine change after the new unit, which the team spent all its development tokens on, had a coolant leak which contaminated the engine. The German had to revert back to the engine which he used in Belgium, which had already run 6 races.
Rosberg was running in 3rd place and closing in on 2nd place man, Ferrari's Sebastian Vettel, when two laps from the end of the race the engine gave up in a cloud of smoke and flames on the run to Della Roggia.
It was a tough weekend all round for Rosberg who wants to put it behind him. He's already looking forward to Singapore in two weeks time.
"This weekend was very tough for me," commented Rosberg after the race.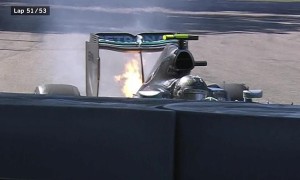 "There were just too many problems with my car which made it impossible to fight for the win.
"It hurts a lot when you have to retire with just two or three laps to go. A few corners earlier, I felt already that I had lost some power but was still hoping I could make it.
"Today was a massive step in the wrong direction for me in the Championship – but to complain doesn't help in these situations.
"I just need to keep pushing and come back even stronger. Giving up is not an option for me.
"I will push hard to turn things in the right direction – starting in Singapore, which is one of my favourite races. I'm looking forward to it already."