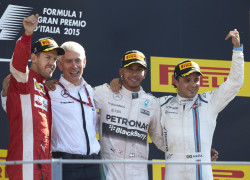 Felipe Massa was ecstatic with the achievement of his second podium of the 2015 Formula One season at the Italian Grand Prix.
The third position finish was a repeat of his podium finish last year when he also collected the trophy in front of his former Ferrari team's fans.
"It's really emotional to have been on the podium," Massa said. "It was a difficult but fantastic race, I didn't have the best start but I was still able to pass cars so it was good enough.
"I worked hard to open the gap to Valtteri [Bottas], but when I pitted early it gave him the advantage on tyres at the end of the race. It was hard to keep him behind as he really wanted it, but I just about managed it.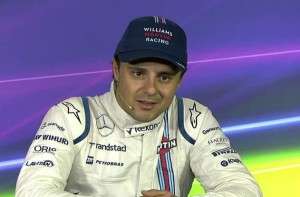 "I am delighted for myself and the team, we got a lot of valuable points. It's special to be up on the podium at Monza again, and I really thank the team for their effort today."
Massa's Williams team mate Valtteri Bottas finished a mere 0.3s behind him in fourth place and laments a few minor issues.
"It was a good result for the team today, good points which is important," Bottas said after the race.
"My pit stop lost me too much time which was crucial for the second part of the race. I managed to get extremely close in the end but it was too late.
"As I saved my tyres and brakes I was able to attack in the final laps but we had system issues on the last lap, so we need to investigate what happened because I also lost an opportunity there."
Photo Credits:
Podium image courtesy of Mercedes AMG Petronas
Massa press conference image screengrab courtesy of Sky F1