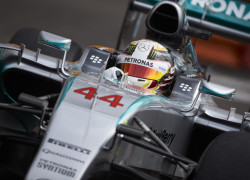 Mercedes driver Lewis Hamilton secured his seventh consecutive pole position for Sunday's Italian grand prix.
Bright sunshine bathed the famous Monza circuit as the one hour qualifying session got underway.
Both McLaren's failed to get out of the first part of qualifying as Jenson Button lapped a fraction faster than teammate Fernando Alonso to set the sixteenth fastest time.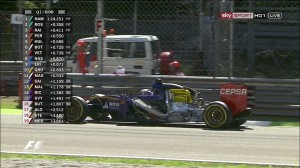 Toro Rosso driver Max Verstappen, who will serve a grid penalty, did not set a time and lost some bodywork in his short qualifying session.
The second part of qualifying saw Lotus driver Romain Grosjean advance into to the top ten shoot-out for the first time at the Italian circuit. Sauber's Marcus Ericsson too made into the top ten battle but is under investigation for impeding Force India driver Nico Hulkenberg earlier in the session.
The final part of qualifying commenced with the expectation of a showdown between Lewis Hamilton and teammate Nico Rosberg. However, Rosberg's subsequent change to the older spec engine, after a reliability issues in FP3, compromised his run. According to Rosberg the team had to revert to an engine that has completed six races. It showed in the laptimes too as the German was only able to set the fourth fastest time.
Lewis Hamilton secured his seventh consecutive pole of the season but it was Ferrari who gave the Tifosi reason to cheer. Kimi Raikkonen will line up his Ferrari in second place after setting a time a mere two tenths off Hamilton's pole lap. Sebastian Vettel will start third in the sister Ferrari and share the second row with Nico Rosberg. Williams drivers' Felipe Massa and Valtteri Bottas will start fifth and sixth respectively.