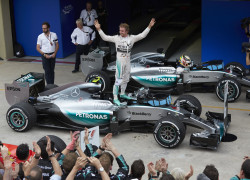 As far as the show is concerned the Brazilian grand prix didn't quite live up to its dramatic heights. Nico Rosberg led into turn one followed by Mercedes teammate Lewis Hamilton and the two Ferrari's of Sebastian Vettel and Kimi Raikkonen.
The battle between Rosberg and Hamilton carried on for quite some time but the German was doing an impressive job of controlling his three time world champion teammate. By being in the lead car on the track it afforded Rosberg control of tyre strategy and the call on when to come in. It left Hamilton at his mercy but the Brit still tried everything to snatch the lead of the race. He stayed within a second of Rosberg for a good number of laps but was unable to create a real overtaking chance. This approach was soon abandoned as it meant that Hamilton's tyres wouldn't last the stint if he continued to hound the back of the no.6 Mercedes.
In third place Sebastian Vettel kept a good pace but never truly threatened either Mercedes. He opted for an alternative strategy and ran the soft tyre midway through but still couldn't threaten. Teammate Kimi Raikkonen was some way off in fourth in what he described as a boring race. The Finn had a late engine change but incurred no grid penalty as it was a unit that had been previously used. Such was the rush job on the engine that Dave Greenwood, Raikkonen's race engineer, was providing instructions for engine set-up during the race. At a point in the race Greenwood could be heard on the radio apologising to the driver "sorry for all the changes, we're just trying to get this engine set up."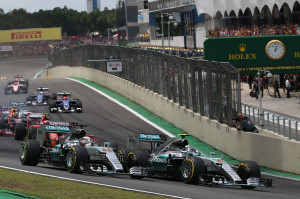 Nevertheless, it wasn't a disastrous weekend for Ferrari as they experienced in Mexico. In fact, the pace has been the best the team has shown in quite a few races. Add to the fact that all but four cars, two Mercedes and two Ferraris', were lapped on the day and the Italian team can feel darn good about their progress.
Hamilton noted after the race that overtaking on the Interlagos circuit was impossible. However, it didn't seem too difficult a task for 18-year-old Max Verstappen. The Toro Rosso driver pulled off a few stunning moves around the outside of turn one which any driver on the grid would be proud to achieve. There are many factors which stopped Hamilton from just sending a move up the inside of Rosberg. His experience would've told him that he just wasn't close enough. Mercedes too would've strongly cautioned him on the potential outcome of a collision.
How is it then that an 18 year-old Max Verstappen is given the license to even attempt those audacious overtaking moves and a three time champ is not. The argument could be made that Verstappen and Toro Rosso has little to lose should he be involved in a shunt. And yes, it's only spectacular until it ends in a lot of carbon fibre pieces.  But really Verstappen has earned his 'license' by proving that his overtaking prowess is no fluke.  In China, Belgium and Brazil his moves have been extravagant but clean. And now he is already building his reputation as an uncompromising overtaker which future teams will be familiar with, come to expect, and hopefully not try to suppress. Here's hoping that Verstappen never loses the fearlessness he has now.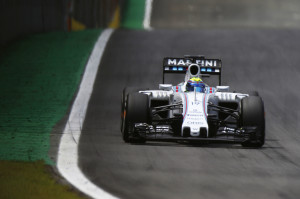 Behind the two Ferraris' Valtteri Bottas finished in a very distant fifth for Williams while Force India's Nico Hulkenberg held off the Red Bull of Daniil Kvyat for a sixth place finish. Felipe Massa finished the race eighth on the track but was later excluded from the results after stewards found that his right-rear tyre "did not comply with the maximum permitted temperature ahead of the start of the race." The Williams team has announced that it will be appealing the exclusion.
It meant that Lotus driver Romain Grosjean was promoted to eighth ahead of Max Verstappen and the second Lotus of Pastor Maldonado.  Despite running an upgraded Renault engine Daniel Ricciardo finished outside the points in eleventh. While McLaren's Jenson Button and Fernando Alonso ended the race in fourteenth and fifteenth Toro Rosso's Carlos Sainz was the only retirement with an engine failure.
By winning the Brazilian grand prix Rosberg has secured second place in the driver's standings and as in Mexico has proven that he has the skill to beat Lewis Hamilton. All that remains now for the championship runner-up is to deliver when it counts most.