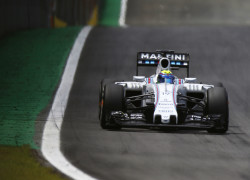 Williams Felipe Massa has been excluded from the Brazilian Grand Prix results after it was found that his tyres were too hot before the start of the race.
"The rear right tyre on car 19 did not comply with the maximum tread temperature as specified in the event preview of the official tyre supplier," said the FIA
"The temperature of the rear right tyre was measured in compliance with the FIA Technical Directive TD/029-15.
"The team did not comply with the FIA Formula One Technical & Sporting Regulations, FIA International Sporting Code and the instructions of the official tyre supplier in the event preview."
Massa's tyre temperatures and pressures were measured at the 5-minute signal before the race. FIA officials discovered that his right-rear tyre was 27 Degrees Celsius above the maximum allowable temperature of 110 Degrees Celsius and that the pressure in the same tyre at 137 Degrees Celsius was 0.1 PSI above the minimum starting pressure.
As a result, Massa was disqualified from the race.
This moves Lotus' Romain Grosjean up to P8 with Toro Rosso's Max Verstappen being promoted to 9th and Pastor Maldonado takes the final points position.
Williams say that they will appeal the penalty.
Race Classification after exclusion of Massa
| | | | | |
| --- | --- | --- | --- | --- |
| Pos | Driver | Team | Laps | Gap |
| 1 | Nico Rosberg | Mercedes | 71 | 1h 31:09.090 |
| 2 | Lewis Hamilton | Mercedes | 71 | + 0:07.756 |
| 3 | Sebastian Vettel | Ferrari | 71 | + 0:14.244 |
| 4 | Kimi Raikkonen | Ferrari | 71 | + 0:47.543 |
| 5 | Valtteri Bottas | Williams | 70 | + 1 Lap |
| 6 | Nico Hulkenberg | Force India | 70 | + 1 Lap |
| 7 | Daniil Kvyat | Red Bull | 70 | + 1 Lap |
| EX | Felipe Massa | Williams | 70 | + 1 Lap |
| 8 | Romain Grosjean | Lotus | 70 | + 1 Lap |
| 9 | Max Verstappen | Toro Rosso | 70 | + 1 Lap |
| 10 | Pastor Maldonado | Lotus | 70 | + 1 Lap |
| 11 | daniel Ricciardo | Red Bull | 70 | + 1 Lap |
| 12 | Sergio Perez | Force India | 70 | + 1 Lap |
| 13 | Felipe Nasr | Sauber | 70 | + 1 Lap |
| 14 | jenson Button | McLaren | 70 | + 1 Lap |
| 15 | Fernando Alonso | McLaren | 70 | + 1 Lap |
| 16 | Marcus Ericsson | Sauber | 69 | + 2 Laps |
| 17 | Will Stevens | Marussia | 67 | + 4 Laps |
| 18 | Alexander Rossi | Marussia | 67 | + 4 Laps |
| | Carlos Sainz | Toro Rosso | 0 | Retired |
Photo Credit: Williams Martini Racing Formula 1 Team