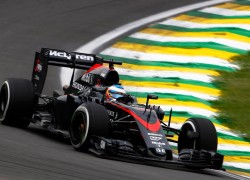 McLaren's Fernando Alonso said after the Brazilian Grand Prix race on Sunday that his car suffered from a surge in power on certain gears.
The Spaniard had a tough weekend with engine failures in practice and qualifying and had a new engine fitted before the race which delivered the power in a "strange" way he says. He was rewarded for a hard fought 16th position for his troubles.
"Finishing the race today was our first priority after having suffered retirements on recent Sunday afternoons, so it's good news that both cars saw the chequered flag and we collected some good data, especially for next year and especially for the chassis, to see which is the best way to go to keep moving forward.," said Alonso
"Unfortunately, the car was not working 100% at the beginning of the race." he continued.
"It sometimes felt strange to drive, with different power in different gears, so I was having to try to avoid the odd gear from time to time.
"I think the reason for that was that after qualifying we fitted a brand-new engine and we didn't have any laps in which to set it up."
On the other side of the McLaren garage, Jenson Button saying that fighting for 15th "was reasonably pleasurable." The upside to that was he could push his car and challenge other drivers in the corners. But they were still to slow on the straights saying that it was scary how much faster other cars are on the straights.
Button admitted that they are a long way off the pace but he feels that the team are moving in the right direction.
"We never enjoy P15, but the race itself was reasonably pleasurable – I could push the car and fight people in the corners," said Button.
"We know where our weaknesses are, so let's concentrate on the positives.
"Okay, we were a long way off the front-runners' pace – when they come past it's scary how fast they are, especially on the straights.
"But, as for the midfield pack, through the corners we're pretty competitive, as I say, which means you can have a bit of fun out there."
"We'll be back at the factory on Tuesday and hopefully we can continue to develop the car. There's a lot of room for improvement but it feels like we're going in the right direction, which is promising, and I'm enjoying inputting into that.
"We're working massively hard. We've probably produced more new parts than any other team, and they seem to be working. We had new front wings here, and it'll be interesting to go back to the MTC on Tuesday to study the data and see if they've helped us move forward, but it already feels like they have.
"Hopefully in the next race, Abu Dhabi, we'll do a little better again."
Photo Credit: McLaren Honda Formula 1 Team