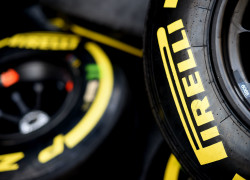 After revealing their findings on Sebastian Vettel's tyre failure at the British Grand Prix, Pirelli has now announced their findings on Kimi Raikkonen's tyre failure and have concluded that damage to the tyre was caused by an external source effectively absolving he Italian tyre manufacturer of any blame.
Pirelli say that they uncovered damage to the tyre in two places near the edge of the belt close to the internal shoulder area of the tyre and that the same type of damage was not found anywhere else on the tyre.
"The results of the analysis on Ferrari driver Kimi Raikkonen's front-left soft compound tyre, which experienced an issue at the end of the recent British Grand Prix, reveal specific damage in two places at the edge of the belt close to the internal shoulder area," said Pirelli in a statement.
"This damage is not present throughout any other areas of the tyre whatsoever. Furthermore, the belt and the structure do not show any signs of fatigue."
The damage may have come from an object that may have made contact with the edge of the tyre according to Pirelli.
"The possible initial cause of this damage is consistent with contact against an external body, leading to a partial separation of the belt from the carcass in the two affected areas. In one of these two places, as a logical consequence, part of the tread also became detached," added Pirelli in their statement.
While this may have damaged the rubber tread of they tyre, the tyre remained structurally sound and was not compromised as Raikkonen was able to make it back to the pits on the tyre still inflated.
Further tests were carried out by Pirelli on tyres that have done similar or more mileage than Raikkonen's tyres and it was found there were no signs of any detachment, fatigue, or laceration on the tyres.
This lead Pirelli to conclude that the construction of the tyre and integrity of the tyre was sound and that the damage was caused by an external object.
"A number of detailed tests have since been carried out, both destructive and nondestructive, on other tyres used by frontrunners at the British Grand Prix with a similar or bigger distance on them compared to the set used by Raikkonen (for 25 laps). On no occasion was there any sign of fatigue, detachment or laceration or even the beginning of such problems – that affected the structure of the tyre.
"In conclusion, Pirelli can confirm that no issues have emerged connected with the tyre itself."