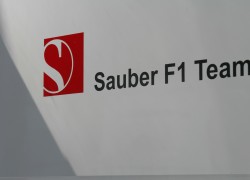 Sauber have confirmed that their 2018 technical partnership with Honda been cancelled.
"It is very unfortunate that we have to discontinue the planned collaboration with Honda at this stage," said Vasseur
"However, this decision has been made for strategic reasons, and with the best intent or the future of the Sauber F1 Team in mind.
"We would like to thank Honda for their collaboration and wish them all the best for their future in Formula 1."
It is unclear what Sauber's future plans are. They could choose to carry on with their Ferrari engine deal. The other options open to the Hinwil based team are Mercedes and Renault. Both have ties to Sauber in one way or another. Mercedes through Pascal Wehrlein and Renault through former Renault team boss and now current team principal of Sauber, Frederic Vasseur.
The Honda deal was put together by Sauber's former team Principal Monisha Kaltenborn, but following her departure from the team ahead of the Azerbaijan Grand Prix both parties decided to call of the deal.
Sauber say that they will announce a new technical shortly.