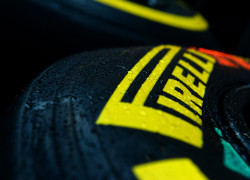 Formula 1 tyre supplier Pirelli has concluded the investigation into the tyre failure that dropped Ferrari's Sebastian Vettel from 4th to 7th.
Pirelli say that a slow puncture was the cause of the first failure. Vettel ran off the track out of Brooklands 2-laps before the end of the race as a result of his tyre failure but was able to make his way to the pits and finish the race. Pirelli say that further damage to the tyre was caused by Vettel driving back to the pits.
"As appeared clear since Sunday afternoon, a full investigation has now confirmed that the original cause of the failure was a slow puncture," said Pirelli in a statement.
"The consequent driving back to the pits on an under-inflated and then flat tyre led to the final failure."
Vettel's tyre failure came almost immediately after team mate Kimi Raikkonen suffered, what looked like a similar tyre failure. Replays of Raikkonen's tyre failure showed otherwise and initially it looked like the rubber de-laminated form the tyre canvas.
Pirelli say that they are still investigating the cause of Raikkonen's tyre failure but they expect to conclude their investigation in a few more days.
"Kimi Raikkonen's damaged tyre shows less evidence of what occurred, so further tests and analysis are still ongoing in Pirelli's laboratories and indoor testing facilities," added Pirelli in a statement.
"It will take a few more days to reach a definitive conclusion."
Photo by courtesy Pirelli