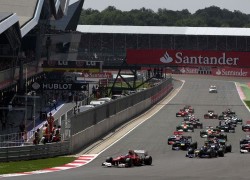 The Formula 1 Circus heads to Silverstone for the British Grand Prix and round 9 of the Formula 1 World Championship.
The Silverstone circuit, situated in Northamptonshire, is a fast and flowing circuit which many of the drivers and fans enjoy. The high speed corners put enormous amounts of energy and stress through the tyres which leads to high degradation and wear on the tyres. With temperatures expexcted to to be in the mid 20's for the weekend the rate of degradation is expected to be higher than normal. Cars also tend to run high down-force levels throughout the weekend. For that reason Pirelli are bringing the two hardest tyre compounds at their disposal for the British Grand Prix weekend. The white medium compound and the orange hard compound tyre.
The hard and medium tyre compounds will be best suited for the quick direction changes for the Maggotts,Becketts and Chapel complex which a quick, left-right-left-right-left combination of corners taken in 6th gear at about 270 km/h. The minimum speed of the complex is about 170km/h. Copse corner is another very high speed corner taken in 6th gear at 255km/h. With the heat and the wear rate of the tyres we could see a two to three stop race.
This weekend in Silverstone will be sunny and hot with glorious weather all round. Temperatures will hover in the mid-to-high 20s for Friday and Saturday. Low 20s are forecast for the race on Sunday. No rain is expected over the course of the weekend.