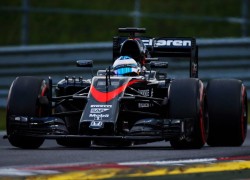 The McLaren Formula 1 Team may change Fernando Alonso's engine at the British Grand Prix after his collision with Ferrari's Kimi Raikkonen at the Austrian Grand Prix.
Alonso collided with Raikkonen on the opening lap of the race at Turn 2 after Raikkonen got the rear of his car out of shape and slammed into the side of Alonso which put Alonoso into the wall. When both cars came to a halt, Alonso's McLaren ended up on top of Raikkonen's Ferrari. Both drivers walked away from the incident uninjured.
After looking at Alonso's engine, Honda say that the damage sustained in the crash may mean an engine change for the Spaniard.
"We have since completed thorough checks of both power units back at the factory, and we believe that Fernando's power unit has sustained damage from the accident, and it may be necessary to change the engine," said Honda's Chief of Motorsport Yasuhisa Arai.
The sensor issue that ended Jenson Button's race in Austria prematurely is still under investigation by Honda according to Arai.
"As for Jenson's power unit this weekend, the issue is still under investigation," he said.
Honda have not made any changes to their engines since the Austrian in season test. They will change the engine settings this weekend to suit the characteristics of the track and to with their new aero parts.
"Honda is not looking to put any hardware updates in place for the British Grand Prix, but we will optimise the power unit setting to the updated aero parts planned on the chassis."