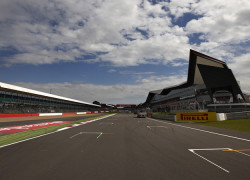 The British Grand Prix and round 9 of the Formula 1 World Championship brings us to the home of Formula 1, Silverstone.
The Silverstone circuit, situated next to the Northamptionshire villages of Silverstone and Whittlebury, has been hosting the British Grand Prix since 1987. Between 1955 and 1986 the British Grand Prix was alternated between the Silverstone, Brands Hatch and Aintree circuits.
With 18 corners, the circuit is a mix of old school with a bit of new school thrown in. There is a very good mix of slow, medium and high speed corners which shows of the skill of a driver. Any shortcomings in a cars setup will also be highlighted.
Formula 1 at Silverstone is always special. Its the birthplace of Formula 1 and it always feels as if F1 is at home at Silverstone. The weekend festivities never seem to let up and come rain or sunshine the grand stands are always packed with very passionate and knowledgeable F1 fans. The circuit is also a home grand prix for many teams that are based close to the facility, Force India being the closest situated right next to the circuit. Mercedes' Brackley plant is a few kilometers away while Lotus with their Entsone base are not far away. Marussia, Williams and Red
The circuit characteristics should suit Mercedes well. Lewis Hamilton will aim for a second victory at Silverstone on the trot, while Nico Rosberg who has found some good form recently will be looking to close the points gap to the championship at the top of the table. He is just 10 points adrift of Hamilton who is at the top of the championship table.
Much has been said about Ferrari's improvements over the past few weeks. But come race day, they are still a few seconds down the road from Mercedes. If anything, it seems as though Williams have closed the gap to the Maranello based team. The fast and flowing nature could play to Williams' strengths this coming weekend.
Coming off the back of some good results in the last two races Force India feel that they are in a good position to finish higher up the grid. They are expected to launch their 2015 car this weekend after running a modified version of the 2014 car until now. The team are confident that their new car will deliver on its promises this weekend.
The race times this weekend are in line with typical European times with the race taking place in the afternoon. Below are your broadcast times for the 2015 Fomrula 1 British Grand Prix.
Free Practice 1: Friday 11:00
Free Practice 2: Friday 15:00
Free Practice 3: Saturday 11:00
Qualifying: Saturday 14:00
Race: Sunday 14:00