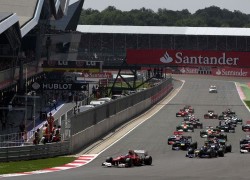 The first ever Formula 1 world championship season took place sixty-five years ago in 1950. The British grand prix was the first official world championship race in that 1950 season and it remains, though altered, on the Formula 1 calendar.
The high speed circuit of Silverstone and the famously quick sequence of Maggots and Becketts are where Formula 1 cars are pushed to the limit of adhesion. The circuit and the venue is a part of many team's history as some make their home's literally down the street from the Silverstone gates. It's one that all driver's love to race on. "I mean, Silverstone's great in a Formula Renault 2.0. In an F1 car? Epic," says Red Bull's Daniel Ricciardo.
The British weather is always in doubt even with talks of a possible heat wave. Yet, whether it is wet or dry Silverstone presents a stiff set-up challenge for drivers and engineers because of the assortment of low, medium and high speed corners.
It is here two years ago that Pirelli faced its biggest controversy as tyres appeared to completely disintegrate. It prompted an almost instantaneous change to the tyre construction and a complete redesign of the rubber. While tyre safety has improved Formula 1 in 2015 isn't exactly in a happy place.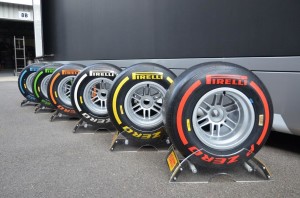 Yes, Mercedes' dominance takes away a bit from the spectacle but they're only getting their dues. They, like the rest of the paddock, were given a set of rules which they hit perfectly on the head. This is the way Formula 1 has always worked, in cycles. A period of dominance is not unusual as most Ferrari and even Sebastian Vettel fans will know.
But what is detracting from the showpiece is what Pirelli has brought to Formula 1. The Italian tyre manufacturer will say that they are simply dancing to Formula 1's tune and producing what they are asked for. But to be able to complete 50 laps on one set of tyres is ludicrous.  It leaves zero room for any sort of bold strategy which the 2012 and 2013 version of their tyres encouraged. At that stage the tyres were criticised for their fragility but what we wouldn't give know for teams to have to think outside of the boring Pirelli box on tyre strategy.  Hopefully the recent addition of Michelin as a potential tyre supplier spurs Pirelli to supply a range of tyres that will to the sport rather than detract from it.
A driver that needs a good weekend is Ferrari's Kimi Raikkonen. The second place to Lewis Hamilton at the Bahrain grand prix feels like a long time ago and a few unflattering results has stunted the Finn's momentum since then. But while some are questioning the 2007 champion's future at the team Ferrari team Principal Maurizio Arrivabene has ruled out making a decision "so early in the season." Nevertheless, a solid run this weekend almost certainly won't go unnoticed in the greater scheme of things.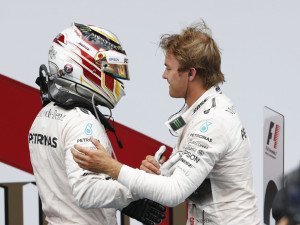 The passion of the British Formula 1 fan has never been in doubt. Come serious rain or come shine nothing can stand in the way of these devoted enthusiasts. They have a lot to shout about too as Lewis Hamilton is aiming at world championship title number three. A win this weekend, on home soil, would be big for the Brit too. To win his home grand prix will come with a sort of euphoria that could carry Hamilton all the way to that coveted third title and importantly extend his points lead.
It is quite something to think that sixty-five years ago pundits of a different era sat down to write about the driver's of their time ahead of the British grand prix. It goes to show that while the times may change where Formula 1 is there the legendary Silverstone will be.