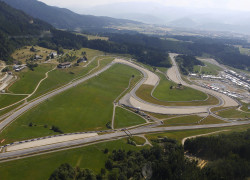 We return to the Austrian Alps for round 8 of the Formula 1 World Championship and the Austrian Grand Prix.
What makes the Red Bull Ring exciting is the sloping terrain around the circuit which makes it feel almost like an arena. The steep climbs and elevation changes make it quite challenging for the drivers under braking and during cornering which makes the car setup and balance important to get right. The circuit has a low abrasion surface which makes for low tyre degradation.
Pirelli have nominated the red super soft and the yellow soft compound tyres for the race weekend. This is the third consecutive race we're seeing these compounds. Pirelli say that the tyre choice is the best suited for the track characteristics. The slow corners will require the mechanical grip from the tyres to enable the drivers to get on the power as early as possible. Temperatures in Austria can remain towards the low side of the scale which makes the tyre choices ideal.
The weather this weekend in Austria will be rather cold. Temperatures are not expected to be any higher than 20 degrees Celsius with rain forecast on Friday and Saturday. The rain may miss the Friday practice sessions but it is expected to interrupt the Saturday practice session. The forecast could clear up by the weekend. Sunday's race seems clear and sunny with a maximum temperature of 14 degrees Celsius.
Below is a snapshot of the weekend's weather with a live forecast that updates throughout the day.