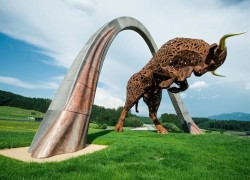 The hills will be alive to the sound of Formula 1 for round 8 of the Formula 1 World Championship at the Red Bull ring for the Austrian Grand Prix.
In the picturesque Styrian mountains lies the 4.326km track ready and waiting to host another round of the F1 Championship. The circuit is a power hungry circuit with its long straights and fast corners. With the track high up in the mountains, it may dull the power of some power units, which McLaren have already warned about. There are not that many slow corners around the circuit but the few that are there require good mechanical grip to get back quickly onto the power.
Many teams will be bringing a second round of major updates to their cars for the Austrian Grand Prix this weekend. The final in-season test that takes place on the Wednesday and Thursday after the race will give teams an extra chance to test their new parts for the coming races before the summer break.
Speaking ahead of this weekend, Mercedes have said that they feel Ferrari have not yet shown their true pace after running their upgraded engine in Canada. Ferrari's podium chance was dealt a blow a fortnight ago after Kimi Raikkonen spun at the Turn 10 hairpin at the Circuit Gilles Villeneuve during the race. Mercedes think that they will get a true sense of Ferrari's pace this weekend at the Red Bull Ring. The expectation is that Ferrari will have made some gains but will still be 2 to 3 tenths off the pace.
Williams have set their sights firmly on Ferrari and believe that they will have the pace to get close and possibly finish ahead of Ferrari this weekend. After a solid 3rd place finish for Valtteri Bottas in Canada, spirits are high in the team and they will be hoping they can carry that momentum through the weekend. Elsewhere in the paddock, Lotus think that they have the pace to overhaul Red Bull at their home race.
McLaren are anticipating a difficult weekend ahead of them. With them already being down on power, Yasuhisa Arai – the Chief Motorsport officer of Honda – has said that the high altitudes will have a negative effect on engine performance.
This weekend will be interesting to see how the top teams stack up against each other in terms of engine performance.
With the race in Europe, we return to normal viewing times. All times are GMT+2
Free Practice 1: Friday 10:00
Free Practice 2: Friday 14:00
Free Practice 3: Saturday 11:00
Qualifying: Saturday 14:00
Race: Sunday 14:00