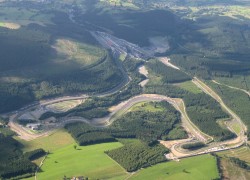 We are over the halfway point in the Formula 1 season and on the home stretch now. Round 11 of the Formula 1 World Championship brings us to the magnificent Spa-Francorchamps.
The Circuit de Spa-Francprchamps is a very fast and flowing circuit with long straights and fast corners. It's a favorite of many drivers and they all look forward to racing at Spa.
Coming to Spa, Pirelli have nominated the yellow soft (option) and white medium (prime) compound tyres for the race weekend. Due to the high speed nature of the track, the emphasis on the tyre is for good front end grip to get the car rotated into the corners without scrubbing off too much speed. Pirelli feels that the tyre choice fits the criteria. The changes in elevation of the circuit means that there is an enormous amount of energy going through the tyres. At the Eau Rouge-Radillon complex the tyres undergo compression of 1g. With temperatures not expected to be as high as they were in Hungary the soft and medium compound tyres should hold up under the conditions and a two stop race strategy is predicted with a delta time of about 2.0 seconds between the compounds.
The temperatures are expected to stay in the mid 20s during the weekend with sunny and pleasant weather for Friday and Saturday. A 60% chance of thundershowers is expected on Sunday around the start of the race with the rain intensity increasing throughout the afternoon. The forecast will change throughout the weekend. You can keep an eye on this page throughout the weekend for our live forecast.