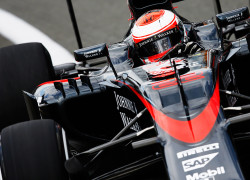 The McLaren F1 team is planning to make a double engine change this weekend at the Belgian Grand Prix following their engine upgrades over the summer break.
McLaren have used 3 engine upgrade tokens and are planning to use those engines on both their cars during the first free practice session on Friday. This will make it engine number 7 for Alonso and Button which will drop Button 5 places, due to the fact that he's already on his 7th turbo charger and 7th MGU-H, and Alonso 10 places. The big drop for Alonso comes as a result of him only being on his 6th engine, turbo and MGU-H.
After the 1st practice session Honda will assess the engine performance. This can be quite a lengthy process and it is expected that Honda will give the drivers their 8th engine which will drop them to the back of the grid.
With the old rules a double engine change would mean that both McLaren drivers will start from the back of the grid and would have had to take a drive through penalty or stop-go penatly during the race. The new rules are more simpler and once a driver has reached the back of the grid, no further penalties will be applied.
McLaren are hopeful that the engine upgrades will bring with it a step up in performance. The team is optimistic about the changes. Jenson Button, although sharing in the teams optimism, remains cautious.
"I think we have to wait and see," he said. "You don't really know until you drive it. There are some long straights here as well.
"Hopefully we can see tomorrow how much it is giving us, as it is obviously a long lap. There is lots of time at full throttle."