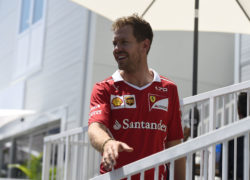 Formula One governing body, the FIA has decided to further investigate the clash between F1 title rivals Lewis Hamilton and Sebastian Vettel.
The clash between the drivers happened behind the safety car at the Azerbaijan Grand Prix when Vettel ran into the back of Lewis Hamilton who was in the lead and was backing up the pack before the restart. Vettel made contact with Hamilton coming out of Turn 16 after it looked like Hamilton slowed down, seemingly catching Vettel off-guard. Vettel, after running into the back of Hamilton, pulled alongside the Mercedes and deliberately banged wheels with Hamilton.
The German received a 10-second stop-and-go penalty for his indiscretion.
The FIA has now decided to further investigate the incident. The FIA said in a statement:
"Following the recent incident at the Azerbaijan Grand Prix in which Car 5 (Sebastian Vettel) was involved in a collision with Car 44 (Lewis Hamilton), on Monday 3rd July, the FIA will further examine the causes on the incident in order to evaluate whether further action is necessary.
"A statement regarding the outcome of this process will be made available before the upcoming Austrian Grand Prix." 
After the race Hamilton openly shared his feelings towards Vettel and called him a "disgrace" and said that it set a bad example for the younger generation in the sport.
Vettel remained defiant throughout and never acknowledged pulling alongside Hamilton and deliberately steering into him.
Depending on what the FIA decide Vettel could be looking at a race ban among other penalties.