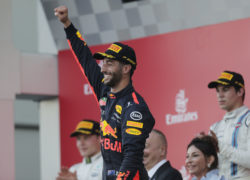 If you had been given absolute free reign to dream up the most dramatic script for a Formula 1 race the chances are you still wouldn't have come up with what transpired in the 51 laps of the 2017 Baku grand prix.
From the first corner on lap one to the crossing of the finish line there was action and drama and tension stamped on every lap of the race which featured three safety-car periods and red flag stoppage. While Hamilton led cleanly away pole his teammate Valterri Bottas and Ferrari's Kimi Raikkonen clashed into turn two. Raikkonen with significant damage the floor of his car somehow maintained a place in the top ten while Bottas' puncture dropped him a lap down.
Hamilton led Sebastian Vettel by roughly three seconds until lap 13 when the first safety car was deployed to recover the stricken Toro Rosso of Dannil Kvyat. Racing resumed on lap 16 but an overzealous Esteban Ocon attempt to overtake his Force India teammate Sergio Perez ended in a shower of carbon fiber and the deployment of a second safety-car period.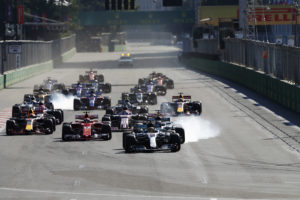 The Pirelli tyres, supersoft and soft, available for this weekend, proved a step too hard as nearly the entire field of drivers struggled with warming the tyres to their optimal working range. A tyre not within this critical working range produces little to no grip and leaves drivers vulnerable. It's for this reason that Hamilton complained that the Safety car was not going fast enough. Nevertheless, Hamilton bunched up the field into turn 16 which must've caught Vettel by surprise as he hit the rear of the Mercedes. The Ferrari driver then pulled alongside Hamilton and turned his Ferrari into the side of the Mercedes. It was an outrageously disappointing, irresponsible and daft reaction from Vettel which earned him a ten second stop/go penalty. While some might like to think Vettel's actions are defensible consider the fact that, post-race, he could not defend his actions.
So much carbon fiber lay strewn across the racetrack that the race was red-flagged on lap 22 in order to clear it away. While Raikkonen had retired with additional rear-wing damage a lap earlier the Ferrari mechanics had somehow managed to change an entire floor and a rear-wing endplate to get Raikkonen back in the race. Similarly, Force India made running repairs to Perez's car and he too was back in the race. Unfortunately, the pair would ultimately retire from the race.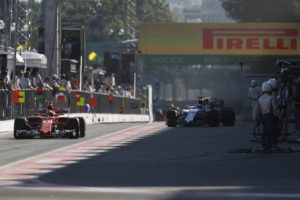 The race resumed after a 23 minutes stoppage with Hamilton in the lead and Vettel behind. Through the chaos and carnage Williams' Lance Stroll and Felipe Massa had emerged in third and fourth. Daniel Ricciardo, who had earlier been 17th in the Red Bull after an early stop, was not in fifth for long as he pulled off an exquisite move to pass both the Williams' into turn one on the restart. Felipe Massa would soon after retire with a broken rear-damper.
The drama was still far from over however as the headrest on Hamilton's leading Mercedes had not been attached correctly. He tried in vain to push it back into place before the FIA directed the Mercedes team to stop and fit a new headrest. It dropped Hamilton to eighth and promoted Vettel into the lead of the race but the Ferrari driver still needed to serve the ten second stop/go penalty. He served the penalty on lap 33 and emerged in seventh ahead of Hamilton.
Now it was Daniel Ricciardo in the lead with Lance Stroll in second and Haas F1's Kevin Magnussen in third. Magnussen could mount much of a fight for the position though and was quickly shuffled back by Ocon before himself falling victim to a recovering Bottas. Vettel and Hamilton would also pass Ocon and Magnussen.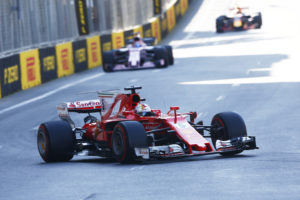 Bottas' significantly superior pace to the Williams of Stroll proved just enough as he snatched second place, on the line, by one tenth of a second. As if to prove how crazy the Baku grand prix was Fernando Alonso was running in fifth at one stage and with a bit more grunt from the Honda could justifiably have won the race.
As it were Ricciardo took his first win since Malaysia 2016 ahead of Bottas and Stroll who, at 18, has become the youngest rookie, to score a podium finish. Astoundingly, Vettel emerged in fourth and extended his championship lead to 14 points over Hamilton who eventually finished fifth. Esteban Ocon salvaged sixth ahead of Kevin Magnussen in seventh and Carlos Sainz in eighth. Fernando Alonso finally opened McLaren's points account with ninth as Pascal Wehrlein in the Sauber finished tenth.
The Baku grand prix was undoubtedly the race of the season so far as nearly the entire field ran into some sort of trouble. Roll on Austria.
(All images courtesy of Pirelli Motorsport)