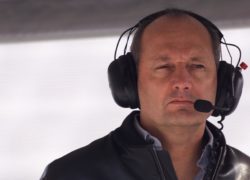 Former McLaren Boss Ron Dennis has, after 37-years, ended all ties to McLaren after selling his shares to the McLaren Group.
In addition to the sale of Dennis' shares he vacates his position as Chairman of McLaren.
Dennis' stake at the company was reportedly valued at £275-million.
McLaren Group has managed to secure long-term finance to acquire these shares and a bit more to put back into the business to stimulate growth.
Dennis, at the helm of McLaren, lead the team to 17 Formula 1 World Championships and 158 Grands Prix wins over his 37-year tenure. He's also worked with legendary drivers like Ayrton Senna, Alain Prost, and Mika Hakkinen. He's also credited for signing on Lewis Hamilton in 2007 in which Hamilton almost won the World Championship in his rookie year.
In December 1980 Dennis merged his company Project 4 with Team McLaren to form McLaren International. Since then all McLaren F1 cars carried the "MP4" name.
"I am very pleased to have reached agreement with my fellow McLaren shareholders. It represents a fitting end to my time at McLaren, and will enable me to focus on my other interests," said Dennis.
READ: Ron Dennis Ousted from McLaren
"I have always said that my 37 years at Woking should be considered as a chapter in the McLaren book, and I wish McLaren every success as it takes the story forward.
Dennis said that he will continue to consult for various companies and the UK Government's Ministry of Defense Innovation Advisory Panel.
"Last but far from least, I wish McLaren well, and I send my greatest thanks and best wishes to my colleagues in all corners of its business, and at every level of seniority," said Dennis.
"Truly, they are the best of the best. And, well funded to succeed and grow, and led by an ambitious management team, McLaren is ideally poised to build on the successes that I am so proud to have contributed to during my time leading such a great British group of companies."
Future Plans for McLaren Companies
Going forward, Mclaren Automotive and McLaren Technology Group will be brought together under one structure called McLaren Group.
The restructuring of the company will make the Bahraini Sovereign Wealth Fund Mumtalakat and the TAG Group McLaren Group's long-term majority shareholders.
Shaikh Mohammed bin Essa Al Khalifa will be McLaren Group's Executive Chairman with Mansour Ojjeh the Executive Committee Principal.
Mike Flewitt will remain as CEO of McLaren Automotive and Jonathan Neale with remain the CEO of McLaren Technology Group with Zak Brown as Group Executive Director.
Mansour Ojjeh believes that the restructuring is the next right step to unify the strategies and brands to create a stronger centre of Luxury Automotive, Racing and Technological excellence now that both businesses have reached world-class scale and success.