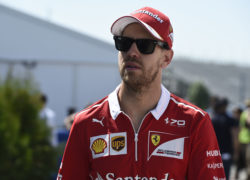 After his incident at the Azerbaijan Grand Prix which he was given a 10-second stop-and-go penalty, the FIA has decided not to further punish Ferrari's Sebastian Vettel for his transgression.
Vettel was issued with a 10-second stop and go penalty for steering into Mercedes' Lewis Hamilton after driving into the back of the Mercedes believing that Hamilton had brake tested him. At the time, the penalty handed down was the harshest a driver could receive short of a black flag.
While the FIA was happy with the penalty handed down by the stewards they were concerned about the implications of the decision where it seemed that Vettel was let off rather too easy. The FIA was concerned about the example Vettel's behavior sets for the younger generation of racers and about the reputation of the organization itself.
Vettel together with Ferrari Team Principal Maurizio Arrivabene reviewed the incident with the FIA Deputy President for Sport Graham Stoker, FIA General Secretary for Sport Peter Bayer, FIA Formula One World Championship Race Director Charlie Whiting, and FIA Formula One World Championship Deputy Race Director and FIA Safety Director Laurent Mekies after which Vettel accepted full responsibility for the incident and extended an apology to the FIA and the wider motorsport family.
In addition to his apology Vettel dedicated his personal time of the next 12-months to educational activities across FIA events including the FIA Formula 1 Championship, FIA Formula Three Championship and FIA Formula Four Championship. FIA President Jean Todt has also instructed that Vettel will not be able to represent the FIA on any road safety activities until the end of the year.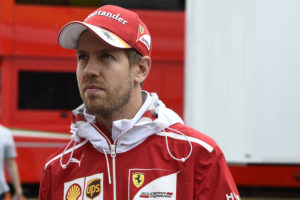 Matter Declared Closed
Todt declared the matter closed after Vettel's apology but warned that a repeat of such behavior from the German would see him  referred to the FIA International Tribunal for further investigation.
"Top level sport is an intense environment in which tempers can flare," said Todt on today's outcome.
"However, it is the role of top sportsmen to deal with that pressure calmly and to conduct themselves in a manner that not only respects the regulations of the sport but which befits the elevated status they enjoy.
"Sportsmen must be cognisant of the impact their behaviour can have on those who look up to them. They are heroes and role models and to millions of fans worldwide and must conduct themselves accordingly."
Ferrari issued their statement shortly after the FIA's. Statement in full below:
"Following the meeting that was held today in Paris between FIA representatives and Scuderia Ferrari driver S.Vettel, with the purpose of clarifying positions on the incidents occurred at the Azerbaijan Grand Prix, Scuderia Ferrari notes the driver's apologies and his personal commitments to help the image of the sport. Scuderia Ferrari confirms its support to FIA's initiatives, sharing the governing's body values and objectives."