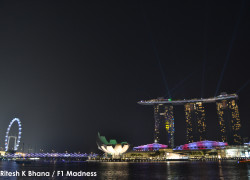 One of our contributors took a trip this year to the Singapore Grand Prix in September and wrote about his experience. We realise this is a bit late but he's had quite a busy schedule since he's been back.
Please note that the views expressed in this piece do not reflect the views of F1 Madness and are the personal views of our contributor.
So it all started way back in April when I was looking for a Grand Prix to attend. Admittedly, Singapore was not my first choice but it was on my list behind Monza and Spa. In the end it was more of a financial decision to attend the Singapore Grand Prix.
Flight tickets, Grand Prix tickets and hotel all confirmed for my first Grand Prix. Now came the wait. It was agonising. The excitement was building as each day grew closer and finally, it was time.
The flight was scheduled to land on Friday which meant I missed out on the Thursday pit lane walk. My flight landed in the morning. I still had the whole day to wait to get to the track. I could not contain my excitement. Although I could not sleep on the flight, my excitement and the anticipation carried me through.
Walking into the track area I could hear the Porsche Cup cars in their practice session. All I wanted to hear was the sound of the F1 cars as they screamed passed me. I made my way to the Bay Grand Stand and took my place and took it all in.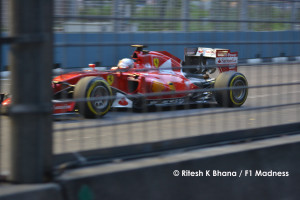 Free Practice – I watched on the big screen as the cars made their way on to the track and I waited for them to come around. I could hear the cars brake for turn 16, then a short burst for Turn 17 and then straight across from where I was seated. It was so quick, but it's something you don't forget.
You hear the engine roar passed you and you realise that its much louder than on the television. I soaked it all up. In a very short time you're able to listen for the slight variations in engine tone.
It's truly amazing to experience it.

During practice on Friday I took a walk along the track and stood between Turn 14 and Turn 16 to get closer to the cars. I picked a spot in the braking zone for T16 and enjoyed the view and the sound. When you're that close you hear the different ways the drivers gear down before approaching corners. For instance, Hamilton does gears down before he gets to the turn while Ricciardo on a few occasions geared down as he turned in. If you watch really closely you can see the tiny differences as each driver takes a corner.
Saturday came and I was at the track early waiting for Free Practice 3. It was much of the same from the Friday Practice sessions but there is a sense of urgency from the teams and drivers. Mercedes were struggling to find their pace while Ferrari had a good rhythm going. Then came qualifying.
While watching live you do miss some of the action. The big screens and track commentary do help to an extent though.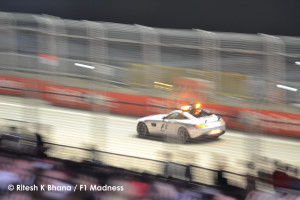 Race day was something different.
Walking to the track you can sense the excitement in the air. As I was walking to the grand stand I was greeted by a rather enthusiastic fellow Tifosi member who high-fived me as I walked passed him. We both shouted "Vettel!" at the same time. It was rather interesting for the three Red Bull supporters walking behind me fully clad in their Red Bull kit.
I've always got some nervousness at the start of a race, even when I'm at home. This was just that much more. It was a good feeling though. After the start we followed the cars on the big screen until they filed passed us. By then Vettel already had a substantial lead. I could not believe how quickly he had done it. After that it was fairly routine apart from the time when Button and Maldonado had a carbon fibre fighting match in front of us.
The crowd were on their feet and a collective "oooooohhhh" could be head when parts of Button's wing went flying. The fun part was watching the marshals that were cleaning the pieces of carbon fibre off the track. It all looks very clumsy and disorganised. It was fun to watch though.
The race itself wasn't the most exciting race around except for the small safety car periods. Vettel took the win and it was over as quickly as it started. I was expecting more of a party atmosphere but there wasn't much. Most of the crowd just stood up and left.

I made my way down to walk on the track. We were finally allowed on the track at Turn 18/19 and the first thought that came to mind was, "wow this is narrower than I was expecting." It was extraordinary. And to think the drivers go through there at speeds that boggle the mind. And then I wondered how on earth Max Verstappen got his car to fit down the inside of T18. That kid has zero fear.
There is one thing that I think would improve things and maybe get fans closer to the action while still doing it in a safe way. Everywhere I went I saw people struggling to get a perfect shot of the action. Now I realise that we cannot all be photographers, but for a small extra fee, organisers could sell amateur photographer tickets that give you access to certain spots on the circuit to capture great moments.
For my first time attending a Grand Prix, it is something I'm never going to forget. It's just a shame that I took so long. I should've done it much sooner. But better late than never. Every fan should attend at least one race in their lifetime. Will I attend another race? Yes. Definitely! Will I go to the Singapore Grand Prix again? Well, maybe.
Don't get me wrong. The entertainment was fantastic. The atmosphere, the spectacle of it all was great. But it's just not one of the classic F1 races. Although the Singapore Grand Prix has been with us since 2008, there's no history attached to the venue, there's no soul. The passion from the fans is lacking. Maybe it was just where I was sitting?
Next on the list for me is Silverstone or Monza (if the manage to hang on to it long enough).