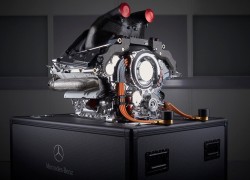 Mercedes and Manor have confirmed the signing of a multi year power unit supply agreement which will see Mercedes power units in the Manor cars from 2016.
The Manor F1 will be supplied with Mercedes Power Units from  Mercedes AMG High Performance Powertrains (HPP) based in Brixworth, UK. Technolody partner Petronas will supply the fuel.
Under the agreement, Manor will be supplied with current year power units throughout the term.
"I am delighted to announce our new Power Unit partnership with Mercedes-Benz for the 2016 season and beyond," announced the Team Principal of Manor, John Booth.
"Although there were many factors governing our selection of an engine partner to help power us towards our long-term ambitions, ultimately the strength of the Mercedes-Benz package speaks for itself.
Booth said that 2015 was about rebuilding the team and now that they have a good foundation, together with Mercedes Power Units, they expect greater progress in the 2016 season.
Booth also thanked Ferrari for their support and added that were it not for them, they would not have been able to take part in the 2015 season.
"I would like to take this opportunity to thank Scuderia Ferrari for their support for our team over the past two seasons.
"In 2015 Ferrari supported us to a degree that was above and beyond the requirements of our partnership agreement. Quite simply, we could not have returned to the grid without them pushing extremely hard to support the MR03B, at the same time as focusing on their own 2015 package."
In addition to the Mercedes Power Unit deal, Manor will resume their technical partnership with Williams Advanced Engineering. This partnership sees Williams Advanced Engineering supplying the transmission and suspension components to the team.
"I am also pleased to announce that we will resume our prior technical partnership with Williams Advanced Engineering, from whom we will receive the supply of transmission and suspension components.
Managing Director of Mercedes AMG HPP, Andy Cowell had this to say about the announcement:
"It is a great pleasure to welcome the Manor Marussia F1 Team to our stable of customers at Mercedes AMG High Performance Powertrains.
"They are a team of real racers with great spirit and impressive determination to succeed.
"We enjoy strong relationships with all our customer teams, and take pride in delivering a standard of hardware and service that reflects the high standards that Mercedes-Benz stands for.
"Furthermore, this new agreement should enable us to keep our supply roster at three customer teams for 2016, which is our ideal level in terms of technical and logistical capacity.
We will be targeting gains in both performance and reliability for the 2016 Power Unit and look forward to delivering those to our new customers at Manor Marussia F1 Team."
Photo credit: Manor Formula 1 Team