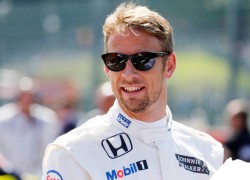 McLaren have confirmed that they will retain long serving Briton, Jenson Button for 2016.
It was no secret that Button(35) was weighing his options on whether to stay in F1 and after the Singapore Grand Prix he made his feelings clear saying that the joy of racing is not there for him. He was expected to announce his retirement from the sport a week later at the Japanese Grand Prix.
But what a difference a week makes in F1. It seemed as though Button had a change of mind and was not giving anything away about his future saying that he was in "good talks" with the team.
Button had this to say about staying at McLaren for 2016:
"Over the past month or so I have done quite a lot of thinking, and it is no secret that I was at one point in two minds about my future.
"But I have been a McLaren driver for six seasons now [2010-2015], and in that time I have got to know Ron very well.
"He and I have had some very good chats these past few weeks, and during those chats it has become clear to me that Ron is both utterly determined and uniquely equipped to lead our team through its current difficulties to great successes in the future.
"That gives me great confidence, and it is for that reason that, together, he and I have decided to continue our partnership; and, as soon as I had made that decision, straight away I realised it was the correct one."
Button acknowledged that 2015 has not beed smooth sailing for the team. But he is still committed to working with Honda to ensure that 2016 is better than 2015.
"Okay, granted, this year has not been an easy one for us," Button said.
"But we know what we need to do to improve things and, in collaboration with Honda, we will work extremely hard over the next weeks and months in order to make sure that 2016 will be a much better season than 2015 has been.
"I can't wait!"
Ron Dennis, speaking to Sky Sports after the Japanese Grand Prix, admitted that he should've informed Button of McLaren's intentions to retain him for 2016 much sooner. Dennis was adamant in the interview that both Button and Fernando Alonso will be retained for the 2016 season.
"Jenson and I have been discussing his plans in private for the past few weeks," said Dennis.
"And the fact that our talks have led to today's announcement is very pleasing to both of us and will delight and motivate all at McLaren-Honda," he added.
"As I have made clear whenever I have been asked about the subject, Jenson's current contract is of two years' duration [2015 and 2016]. There is a 'terminate after year one' option that McLaren could have triggered if we had wished to do so.
"But, once it became clear from my many conversations with Jenson that he remained as enthusiastic and as committed and as focused as ever, that option immediately became an irrelevance.
Dennis says that the terms of the contract that were entered into in 2014 have not changed for Button.
"That being the case, Jenson will race for McLaren-Honda next year, under the terms and conditions as set out in the two-year contract that both parties entered into a year ago."
This brings some kind of stability for McLaren. There is some doubt over Alonso's future at the team even though he is contracted till the end of 2017. His latest outbursts at the Japanese Grand Prix, in front of the Honda management could not have gone down well with the team. But despite that, he says he is committed to McLaren. Time will tell
Photo credit: McLaren-Honda Formula One Team